Royal Hospital Chelsea Appeal
Scarlet Tunic changes the watch with Victoria Cross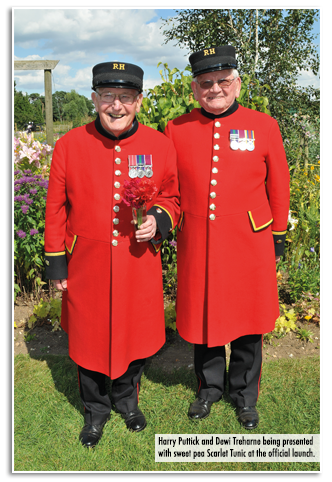 Chelsea Pensioners were on hand at Mr Fothergill's Kentford, Suffolk, trial ground in mid-August 2016 to name a blend of sweet peas in red shades aimed at raising funds for the Royal Hospital Chelsea. It has been called Scarlet Tunic, after the Pensioners' distinctive apparel, following a ballot of the residents of the Royal Hospital Chelsea and a public online vote. Mr Fothergill's will donate 25p to the Royal Hospital Chelsea for every £2.19 packet of 20 seeds sold. It will be on sale from Autumn 2016.
Mr Fothergill's have already helped raise more than £50,000 for the Royal Hospital Chelsea through sales in 2015 and 2016 of its poppy Victoria Cross. Sweet pea Scarlet Tunic continues that backing for the veterans of the British Army.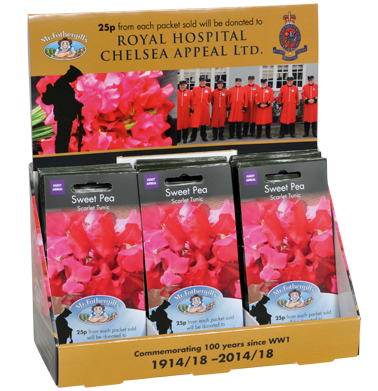 Rachael Ferguson, corporate partnerships officer at the Royal Hospital Chelsea said "We are delighted at Mr Fothergill's continued support, which is well known among and appreciated by the Chelsea Pensioners. The backing from the company and its thousands of customers, for which we are grateful, is quite remarkable".
Mr Fothergill's joint-managing director David Carey commented "Our continued commitment to the Royal Hospital Chelsea is testament to the generosity and loyalty of our garden centre stockists and their customers, of whom we are proud. Their support provides tangible benefits to the men and women who have served our country".
Mr Fothergill's was recently honoured by being granted Corporate Patron status by the Hospital.
The Royal Hospital Chelsea was established in 1682 by Charles II to provide a safe home for military veterans 'broken by age or war'. The Christopher Wren-designed Royal Hospital admitted its first pensioners in 1692.
You can support the charity by purchasing a pack of Sweet Pea Scarlet Tunic seeds, by clicking this link.
Click here to visit the Royal Hospital Chelsea website.