February was a month in which it seemed we barely had two consecutive days the same. Just when we thought we were getting away with a mild winter, we experienced several hard frosts; we had rain at times, but never as much as was forecast, so all-in-all it was a month of false starts. Lawns have hardly stopped growing since autumn and look very much in need of a cut. Snowdrops have been flowering since early January, but they will soon be coming to the end for this year. Always a welcome sight, they bring the hope spring will not be too far away.
Flowers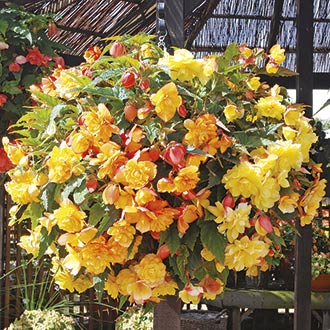 Begonia Apricot Shades
Later this month sees the vernal equinox and the official arrival of spring, so it's already time to start thinking about growing new plants for this year's floral displays. An ever-increasing number of us now grow a wide range of plants for our hanging baskets, patio pots and window boxes - and we are spoilt for choice by the wide range of new varieties developed specifically with these containers in mind.
Trailing begonias are some of the most exuberant of all container plants, and in our opinion nothing compares with the tuberous-rooted Illumination series. We offer five colours, all of which produce long trails and masses of fully double, large blooms from July right through to October. They have excellent weather tolerance and make a fantastic show in summer baskets. If you grow only one colour, why not make it Apricot Shades, which also includes warm yellows and rich golds? We deliver the young plants to you from mid April onwards, so you can grow them on before planting up your containers for summer.
Staying with basket plants, can it really be over 20 years since our friend, East Anglian breeder David Kerley, launched Petunia Priscilla - the first in a series now known as Tumbelinas? Named for his wife, who actually developed this worldwide success, it remains the benchmark by which all double-flowered trailing petunias are judged. The couples' latest introduction is the pink picotee Anna, which also looks set for a bright future. We offer both, plus a blend called Scented Falls, which includes Priscilla, Melissa and Joanna.
Half-hardy annuals are the mainstays of many gardeners' summer displays, whether used in beds and borders or in patio pots. Seed of many can be sown in warmth during March to produce sturdy young plants ready for setting out from May onwards, when the last of the spring frosts have gone. While a heated greenhouse is a luxury most of us do not have, a warm windowsill is usually just the job for raising a wide range of bedding and container plants. Once they have germinated, grown on and been transplanted to larger trays, the weather should be warming up and most can be grown on in an unheated greenhouse, although they will need fleece or newspaper protection when frosts threaten during April.
We trial many hundreds of potential new bedding plants every summer and introduce only those which perform well for us. Modern zinnias have much improved garden-performance than older strains. We particularly like the Zahara series, and are pleased to introduce Double Zahara Yellow for this summer. It looks lovely whether grown in beds or containers.
Hybrid tea and floribunda roses can be pruned with sharp secateurs before the current season's growth begins. This action reduces overcrowding, and allows better air circulation, which in turn helps to prevent fungal diseases such as blackspot. Start by removing twiggy growth, dead wood and stems growing towards the middle of the plant. Then cut back hybrid teas to within 6in of soil level and floribundas to within 12in, making a clean, sloping cut about ¼-½in above an outward-facing bud. Complete the job by applying a rose feed and a mulch. This gives them the best possible start.
As snowdrops finish flowering, why not lift and divide them 'in the green' to provide you with more clumps for elsewhere in the garden or to give as welcome gifts to friends and families? This transplanting is best done as quickly as possible, ideally within a day. Once the clumps of bulbs have been teased into smaller sections, transplant them at the same level at which they were previously growing. Water them well and continue to do so, especially during dry spells. They should soon revive and flower for many years ahead.
Vegetables
New & Exclusive - Suncherry Smile F1
When the 'grow your own' renaissance began a few years ago, some cynics suggested it would be a one-year-wonder, but they have been proved spectacularly wrong. Our customers continue to grow more and more of their own vegetables, even where space is limited. All we vegetable growers know nothing compares with the flavour and texture of just-picked produce, but that is not the only reason we do it. There is the deep satisfaction of eating what we have grown, after tending it, encouraging it and protecting it for weeks and often months. Growing food satisfies an innate, ancient urge in our psyche and gives contentment - despite the problems we sometimes encounter between seed packet and plate!
We have several exclusive varieties to our range. Tomato Sungold F1 is regarded by many as the finest flavoured, and now the renowned 'cherry' is joined with another six varieties in our range from the same breeding programme, three of which are 'exclusives'. All performed remarkably well in the our huge tomato trial, and have a flavour as outstanding as that of their illustrious 'sister'.
Red-fruited Suncherry Smile F1 produces masses of very sweet tomatoes, while Sunchocola F1 has attractive brick red to brown fruits, which are incredibly tasty eaten straight from the plant while still warm. Sunlemon F1 is the earliest of the group to mature, producing plenty of lemon-yellow little fruits. Tomato Suncherry Premium F1's sweet fruits are produced for many weeks, Sungreen F1 yields lime-green fruits with a sweetness which belies their appearance, and Sunpeach F1 yields warm pink-red little tomatoes. All six display excellent disease resistance, ensuring the plants remain robust all summer long. They are indeterminate, so require staking and the removal of sides-shoots, and can be grown either in a greenhouse or outdoors. Do try at least one this summer because we believe you will be impressed. Sow the seed this month or into April.
If March starts to warm up and winds begin to dry out wet soil, there is no reason why you should not make some early, direct sowings of parsnips, carrots, beetroot and radishes. Do be guided by the weather rather than the back of the seed packet, though, as seeds will not germinate in soil which is waterlogged and/or too cold. If in doubt, always wait! If you can place cloches or horticultural fleece over the soil for a week or two prior to making these sowings, the ground will warm up and give such seeds a flying start.
Early potatoes can be planted this month, although we recommend waiting until April before maincrop varieties go in the ground. Plant tubers about 6in deep, 15in apart and allow 18-20 inches between rows. As the foliage appears above ground, keep earthing up the soil from either side to protect this growth from frost damage.
If you are intending grow runner beans later in the spring, now is the time to make a trench for them, filling it with well-rotted manure and compost, plus some shredded newspaper in the bottom. This will provide the deep, rich root-run in which they thrive, giving you a bumper crop from a May sowing. We must mention here our new and exclusive runner bean Firelight. This red-flowered variety really is the 'next generation' of self-setting runner beans, being an improved version of our popular Firestorm. Virtually self-fertile, Firelight has improved pod-set, better textured, stringless pods and is a heavier cropper - so a 'treble whammy'! And even more good news - Firelight is tolerant of hot, dry summers, unlike many other, older varieties.