Didn't we used to call it 'flaming June'? We saw very little sunshine during the month, and far too many torrential downpours, which have not done our trial ground any favours. While the soil is on the light side and often lacks moisture, it certainly does not need what seemed at times like a month's rainfall in half an hour.
And with the rain and the warmth which accompanied it come what we believe is the gardener's worst enemy - slugs! They are one of the most destructive pests, especially when you consider they can eat twice their own body weight daily. If you too are bothered by slugs, we have the answer for you. Nemaslug® controls all common species of small to medium sized slugs, with one application providing up to six weeks of protection.
Nemaslug® uses nematodes (Phasmarhabditis hermaphrodita), naturally occurring microscopic living organisms already present in the soil. Unlike chemical pellets, the nematodes continue to work well during wet weather. Start your control early and you will be able to target the young slugs growing under the ground before they do any damage. Slugs are generally active when plants start growing and soil temperature is above 5°C.
This renowned and proven biological control is easy to apply, safe and harmless to humans, pets, birds and other wildlife. Nemaslug needs to be used as soon as you receive it and, once made, the solution should not be kept. We also offer similar Nemasys products to combat chafer grubs, vine weevils, leatherjackets and ants.
Flowers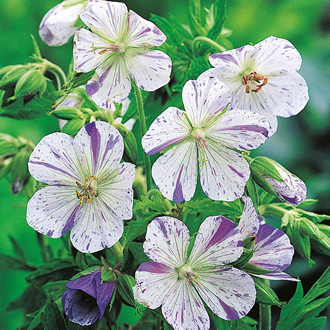 Geranium Splish Splash
July should be a month of enjoying the flower garden, cutting blooms for the house, appreciate scents and the profusion of colour. It's our reward for the effort we have put in earlier to try and make it as attractive as possible. Remember to cut sweet peas every day to encourage them to produce more and more of their fragrant flowers. Any faded blooms should also be removed from the plants to prevent them from producing seed and thinking their work is complete.
Once hardy geraniums (cranesbills) have finished flowering, it is worth cutting them back to encourage them to produce a further flush of their blooms later in the summer. Many species and varieties of this easy-to-manage perennial can be grown from seed. Why not try our Splish Splash or our Mixture of species?
Vegetables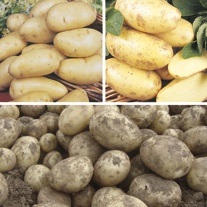 Sow Late Crop Potatoes This Month.
An important element of vegetable growing is planning for the future, and while you may be lifting delicious new potatoes at the moment, how about growing some for autumn crop? Who knows, you may be lifting 'new' potatoes for Christmas lunch!
Our late cropping spuds have been kept in a cool store to stop them shooting, but once taken out in mid July, they quickly come into growth. Planted in late July, they will crop from October and with a little straw protection, through to Christmas.
Our collection of late-cropping potatoes includes 10 tubers each of Gemson, Charlotte and Nicola, plus a free 500g pack of potato fertiliser. Here is what you receive:
Gemson
Bred from Maris Peer, this new variety has a delicious flavour, producing generous yields of small, oval tubers with smooth white skin and firm, creamy flesh. Highly recommended for steaming and boiling and serving as a new potato, hot or cold, with salads.
Charlotte
Lovely as a 'new potato' and wonderful cold in salads, it stays firm when cooked and can be sauted or even roasted. A long oval variety, producing yellow skinned waxy potatoes with creamy yellow flesh. Fine flavoured and highly recommended.
Nicola
Long white tubers with creamy yellow, waxy flesh and a superb sweet, nutty taste, plus good resistance to blight and scab. Highly recommended as boiled new potatoes or in salads.
Do you still have some space in the vegetable garden or were there some summer-cropping veg you just did not get round to sowing this year? We can help because we have just started despatching vegetable plants - all expertly grown and ready to go into the garden as soon as you receive them. You can take your pick from brassicas - cabbage, broccoli, kale, savoy and cauliflower - plus courgettes, dwarf beans and runner beans. They will really help you make up for lost time, and in a few short weeks you will be harvesting your delicious fresh produce.
Fruit
Think of Wimbledon and we think of strawberries.! How do you like the thought of growing your own British-bred strawberries, capable of producing their crop just 30 days after planting this summer? That's the promise that comes with our 'Berry Quick' Sweetheart strawberry plants.
Here's how we do it. Plants are lifted in September and October, with flower initiation already begun – and then they are frozen. Around the middle of April the plants are thawed, potted and grown on at our nursery. By mid May the plants are well developed and need just 30 days more growth before they start producing their berries.
Strawberry Sweetheart was bred at East Malling Research in Kent; Its sweet and juicy berries are conical in shape and have good colour and a superb 'old fashioned' flavour. The plants fruit whether in the ground, container, window box or hanging basket.