Happy New Year! Is it just us, or does every year seem to go faster than the last?
December was generally mild and open here at Kentford, allowing Brian to continue clearing the trials ground, and to start preparing it again for all the new and experimental varieties he'll be growing for us to assess during the year ahead.
If the greenhouse is empty at present and the weather remains wild, it's a good idea to give it a good clean inside and outside to help get rid of any pests that may be lurking and to improve light levels for seedlings and young plants in the spring ahead.
And if you are feeling virtuous and in need of some post-festive season exercise, dig over any fallow parts of the vegetable plot or allotment, turning in plenty of well-rotted compost or farmyard manure as you go, if you are lucky enough to have a source.
Flowers
The soil is often wet and heavy at this time of year, so if you need to work on beds or borders, it's a good idea to have a plank to stand on while you are working; this minimises soil compaction and keeps the ground as open as possible. Weeding borders is a good idea at present, especially if you are planning to give perennials and shrubs a mulch this spring.
While some gardeners like to leave ornamental grasses standing through the winter as they can look attractive when frosted, they can also start to look rather rough as January progresses. Cut them down almost to ground level, but keep a look-out for and avoid damaging any new growth which may already be emerging if the weather is mild. The same treatment can be given to the stems of perennials in the border.
When snowdrops have finished flowering late in the month or into February, clumps can be carefully lifted and divided to increase your stock of these beautiful little flowers; this is known as planting 'in the green'. Keep them out of the soil for as short a time as possible. If you already have enough, friends and relatives will always be grateful for your 'spares'.
Leaves of hellebores can be carefully cut away to help reveal their flowers and reduce the risk of them getting the fungal disease leaf spot. As we progress into spring, the plants will also appreciate a mulch to help retain moisture round their roots and to help feed them.
If you were given an amaryllis (hippeastrum) for Christmas, it does not have to be just a 'one-hit-wonder'. With a little care and attention it can be coaxed into producing another display this December. Remove the blooms as they die, but leave the stalks and the leaves which are still developing. This will allow the bulb to become nourished. It may not look attractive in this state, but place the plant in a warm, light spot and water it only sparingly as it starts to die down. A fortnightly feed with a high-potash liquid tomato fertiliser will help it develop flower buds for next season.
Vegetables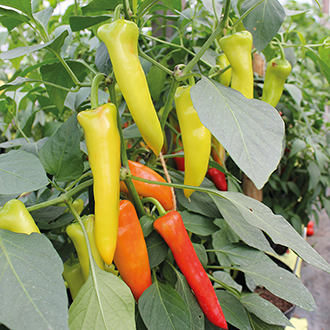 Sow chilli seeds indoors this month.
Seed of chilli peppers can be sown during January. Our trials manager Brian believes that the hotter the variety, the earlier the seed needs to be sown and the more heat it requires. He sows chilli seed in a heated propagator set at 28-30°C. We can recommend variety Lemon Drop, which is a really hot Aji-type with a lemony flavour; it's ideal for growing in containers. And while you are in sowing mode, aubergine seeds can also be started in January, as they are relatively slow growers too.
For those who like to make early sowings in the vegetable plot, remember you can get off to a flying start by covering the bare soil with polythene sheeting now. This will not only keep out the worst of the winter rain and frost, but also warm up the soil beneath and even suppress some weeds. Hold the sheeting down with bricks or large stones.
Broad beans are hardy but, once again, if you want a flying start to their season, try sowing the large seeds individually in large modules or small pots. This lessens the chance of them being eaten by mice before they have the chance to germinate. Ideally the sowing should be placed in a cold frame or greenhouse, but it can also stand outside in a sheltered spot and covered with some horticultural fleece.

As Brussels sprouts, savoys and other winter brassicas are harvested, add the leafy parts to the compost heap, but not the stems unless they have been well shredded. Do not leave their shed foliage on the garden, as this harbours pests and diseases, which may cause future problems.