During January we experienced many hard frosts and very little rain. It has started to feel like a 'proper' old-fashioned winter; the ground has been unworkable for much of the month, and we wonder whether February will continue where January left off? If we could actually get the parsnips out of the soil, we are sure we would appreciate that sweetness which hard frosts give the roots!
If you have not already placed your seed order with us, we do urge you to do so soon so they arrive in time. We always find that new varieties go very quickly, with so many of you keen to try what is new for the season ahead.
Flowers and Shrubs
Did you know that quite a number of perennial flowers will bloom in their first year if the seed is sown during February in gentle warmth? This means you have a great many more options for summer-flowering plants, rather than relying solely on annuals. Perennials have the advantage that they will re-flower as bigger, better plants in subsequent years, so you really get your money's worth when you grow them. Look out for the
symbol in our catalogue which tells you whether a perennial can be treated in this way. Achillea, agastache, delphinium, gaillardia, helenium and verbsacum all fall into this category - so why not get sowing now?
February is also the ideal month to sow seed of slower growing half-hardy annuals, or half-hardy perennials usually treated as such. Fibrous and tuberous rooted begonias, geraniums (zonal pelargoniums) and antirrhinums are three which immediately spring to mind in this category.

If you planted any shrubs in the autumn, check them to see they're still growing firmly in the soil, as winter winds may have rocked them and made them become loose. If this is the case, heel soil into the base of the plants to protect against further movement. Herbaceous perennials can have some of the same treatment. The soil around them contracts and expands with freezing and thawing, often resulting in the plants pushing themselves out of the ground.
Autumn and winter flowering shrubs that are starting to fade and lose their blooms can now be pruned. The prunings can be shredded and added to the compost heap or used as a mulch or soil conditioner. Now is also a good time to prune summer and autumn flowering clematis, just as the buds start to swell.
Hyacinths are popular indoor plants for the winter months, but there is no need to discard them when they have finished flowering for the season. As the foliage dies back and turns yellow and then brown, they can be planted outside, where they will usually flower for several springs to come. Plant them a few inches deep, either direct in borders or in large pots. If you can plant them close to a door of the house, you will be able to enjoy their heady perfume every time you go out or come back in.
Ornamental grasses are coming back into vogue, but they can look a bit tatty at this time of year. We suggest cutting them back almost to ground level, from where they will make plenty of healthy new growth as spring progresses. The foliage of several grasses can be sharp, so it is a good idea to use thick gloves when cutting them back.
Evergreens and conifers are not as popular as they once were, but they do provide colour interest at this gloomy time of year - and they also give welcome shelter and warmth for a host of wild birds.
Vegetables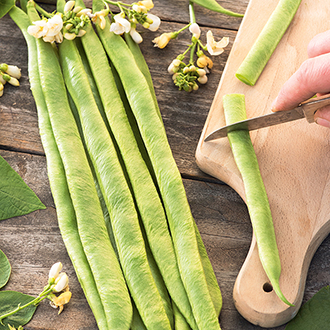 Of course, it's too early to sow runner, French and climbing beans at the moment, but do consider ordering your seed now ready for sowing from April onwards. We have some splendid new varieties which we strongly recommend. Guinness Record, is really worth trying. Whether you grow for the kitchen, as most of us do, or like to enter a few pods in the local horticultural show, this really is great! It produces heavy crops of long, smooth, delicious pods, which can reach 50cm (20in) long with good growing. It's red flowered and has resistance to all bean viruses.
If your soil is reasonably light and weather conditions are favourable, you may feel like making a sowing of parsnip or carrot seed later in the month. Remember no seed will germinate in cold, wet soil, but if you can provide some cloche cover for a week or two before sowing, the soil temperature will rise and it will dry out enough to make a sowing worthwhile. Replacing the cloches after sowing will be of real benefit too, but if you are unsure or cannot offer such protection, it is usually better to wait until March before making your first outdoor sowings of the new year.
Have you ordered your seed potatoes? There is still time, but many varieties do sell out fast at this time of year. When you receive them from us, we advise 'chitting' them to aid the formation of short, stubby shoots so that when they are planted later on they will have the best start. This chitting process is really nothing more than standing them upright - old egg boxes are perfect for this - with the buds facing upwards in a light, cool, frost-free place for a few weeks.