We're currently experiencing supply chain issues in some areas, due to a combination of unusual factors. These include higher than normal demand, suppliers and couriers experiencing staff shortages and some short term material supply issues occurring as a result of Brexit. We're doing everything we can to overcome these and expect the majority of orders to be delivered successfully, well in advance of the growing season. However, in some cases, shipping dates may prove to be slightly later than originally anticipated.

To help ensure we can allocate customer service resources where they're most needed, please check our Covid update page for latest information before contacting us.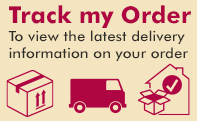 To save you the trouble of calling or emailing us, please try our most frequently asked questions.
For latest product despatch information, please see the individual product pages. Despatch dates for live plants may vary depending on growing conditions, these should be used as a guide only.
Check the status of your order here even if you didn't place your order online. For orders placed online, you can log into your account to check the status of your order and review your order history.
Contact us by Email
Please select from the list of topics shown below. You will be taken to a contact form, please provide as much information as possible as this will allow us to deal with your query more quickly and efficiently. To save you having to contact us you may find answers to your question in our Customer Service section or Frequently asked questions.
Write to us
Please include as much information about your problem and your order as possible. If your product has failed or arrived damaged or in poor condition, it would be really helpful if you could include a photograph of the product.
Customer Services
Mr Fothergill's
Unit 8, St.Leger Drive
Newmarket
Suffolk
CB8 7DT
Phone us
0333 777 3936.
Lines are currently open 8am-6pm weekdays, 9am-5pm weekends.
Our call centre capacity is currently reduced to ensure staff safety. Please accept our apologies in advance should this result in your having to wait longer than normal in a call queue. We're working hard to expand capacity and hope to be able to extend operating hours in the near future.